Director's Memo 2021-03-15
Oklahoma BPA holds virtual State Leadership Conference
Almost 1,000 people participated in the virtual Oklahoma Business and Professional Association State Leadership Conference.
Students participated in online testing, created projects, recorded presentations and presented to judges through Webex in 146 different events, said Paxton Cavin, Oklahoma BPA state adviser. BPA is the CareerTech student organization affiliated with business, marketing and information technology education.
Students also attended workshops, listened to speakers Jason White and Lt. Gov. Matt Pinnell, visited virtual state officer campaign booths, voted on candidates and a bylaw amendment, attended a state officer live panel, competed in a trivia contest and attended awards ceremonies. Chapters and members earned community service awards, three graduating seniors received $500 scholarships and three advisers won an Adviser of the Year award for their divisions.
Oklahoma BPA also hosted its first ever state officer reunion, which was attended by 20 former state officers and two former state advisers.
Southwest Tech works with Altus AFB
Altus Air Force Base and Southwest Technology Center work together to help students become aircraft mechanics.
Members of the 97th Aircraft Maintenance Squadron visit Southwest Tech's Aviation and Aerospace Technology Program to talk with students about working as aircraft mechanics and also give tours of the base to students every six months.
The partnership benefits students by showing them career possibilities, but also provides Southwest Tech feedback on its curriculum, said Bob Huttie, SWTC aviation maintenance instructor.
Both academic and technical skills are needed
Students need both academic and technical skills to succeed in today's job market, writes CareerTech State Director Marcie Mack in a column in The Journal Record.
A qualified workforce needs both industry credentials and academic credit, and students should not have to choose between a technical path or an academic path. Those who participate in career and technology education classes in high school are not limited in their postsecondary education opportunities.
Francis Tuttle Tech StellarXplorers team qualifies for national finals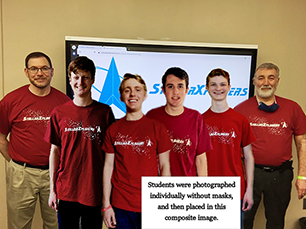 A team of Francis Tuttle Technology students has qualified for the national finals of the StellarXplorers high school space challenge.
StellarXplorers is a "space system design competition involving all aspects of system development and operation with a spacecraft and payload focus," according to its website.
Team members pictured at right in a composite photo are from left, Bryan Kitzrow, Francis Tuttle instructor and team mentor; Sean Rice; Samual Doerflinger, team captain; Clark Howard; Renardus Herholdt; and Charles Koutahi, team director and Francis Tuttle aerospace instructor. Photos of individuals were combined in the composite photo.
Edmond Business praises CareerTech education
In a recent column, Edmond Business, an online business magazine, highlighted the work of Oklahoma CareerTech in the Edmond community through Edmond Public Schools and Francis Tuttle Technology Center.
Edmond Public Schools' CareerTech programs include marketing, agriculture, family and consumer sciences and business and information technology.
Francis Tuttle has a Business Innovation Center in Edmond and three campuses just outside Edmond city limits and plans to open its Danforth Campus in Edmond in the fall.
CareerTech students, instructor win Aspirations in Computing awards
Nine Oklahoma CareerTech students and one instructor have received the National Center for Women & Information Technology Award for Aspirations in Computing.
Olga Caulfield, pre-engineering instructor at Moore Norman Technology Center received the Educator Award.
High School Award winners were Emily Dangott, Central Technology Center, Kiefer; Camryn Grabeal, Caddo Kiowa Technology Center, Apache; Madelyn McDonald and Lauren Smith, both Moore Norman Technology Center and both of Moore; Sage Abbot, Moore Norman Technology Center; and Skyler Wright, Southern Technology Center, Ardmore.
Kaylin Charlton, Moore Norman Technology Center, Moore, was an honorable mention recipient for the High School Award.
High School Awards rising stars were Moore Norman Technology Center students Olivia Braley, Norman, and Hannah Sanders and Hana Tafolla, both of Moore.
If opportunity doesn't knock, build a door. -- Milton Berle