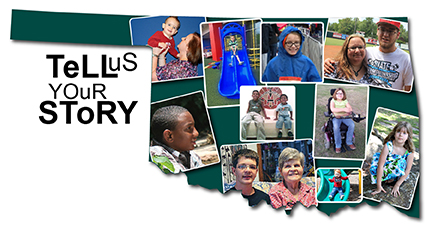 SoonerCare (Medicaid de Oklahoma) es un programa de cobertura de salud que ofrece diversos servicios de salud a uno de cada cuatro ciudadanos de Oklahoma. Los miembros de SoonerCare pueden acceder a sus proveedores de atención médica con regularidad con el fin de mejorar su estado general de salud y recibir servicios de prevención y atención de seguimiento que podrían reducir el riesgo de graves problemas de salud en el futuro. 
Los siguientes enlaces conducen a historias de los miembros actuales y ex afiliados de SoonerCare sobre el impacto positivo que el acceso a una atención de salud de calidad ha tenido en sus vidas. ¡Esperamos que usted también comparta su historia! Tanto si es un tratamiento médico para salvar vidas o la oportunidad de recibir atención médica de rutina para su hijo, queremos saber cómo SoonerCare marcó la diferencia en su vida. 
On average, more than 50 percent of the estimated Oklahoma populations younger than age 18 have been enrolled in SoonerCare.
SoonerCare provides quality health care for 1 in 4 Oklahomans.
SoonerCare provides medical, dental and vision coverage for children who qualify for the program.
More than 570,000 Oklahoma children are currently enrolled in SoonerCare.
A family of four can have an annual income of more than $50,000 and may still qualify for SoonerCare.