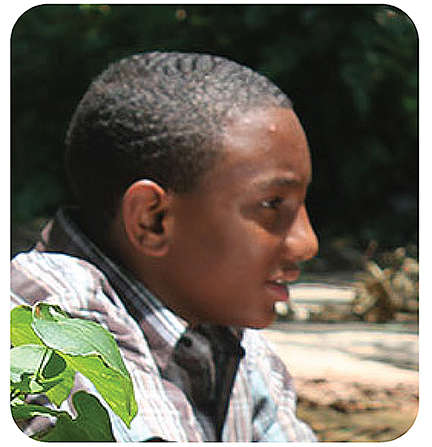 Anthony - Oklahoma City, Oklahoma 
Anthony Burke siempre caminaba de puntillas, pero su madre dijo que trató de conseguir ayuda médica cuando él empezó a quejarse de que le dolían las rodillas.
"Lo llevé de médico en médico –dijo Latrita McFadden, la madre de Anthony– "y todos dijeron que lo superaría con la edad".
Su madre dijo que miraría hacia el suelo y no hablaría con otras personas debido a un impedimento del habla.
"Él caminaba con la cabeza baja y como tratando de evitar a todos", dijo Latrita. Anthony volvió retraído y no leía en voz alta en clase. "Él era objeto de burlas y su autoestima era baja."
Cuando su madre lo inscribió en SoonerCare, Anthony recibió ayuda muy necesaria para sus problemas de salud. Los médicos descubrieron que los tendones de Aquiles de Anthony eran más cortos de lo normal. Anthony tuvo una cirugía y recibió tratamiento médico para sus pies más la terapia del habla.
Anthony ya terminó con la terapia física y del habla, y su madre dice que su autoestima se "disparó".
Latrita tiene dificultades para contener su asombro al describir a un niño que ahora tiene la autoestima no sólo para hablar, sino que es ahora diácono junior en su iglesia y se postuló para presidente del cuerpo estudiantil. Y en un claro contraste con unos años atrás, Anthony ahora es tutor de otros estudiantes en su clase.
Anthony no ganó las elecciones de la escuela, pero dice que se va a postular el próximo año y que la carrera seguirá hasta que gane.
"Es gracioso porque, dice, literalmente, la carrera seguirá. Sabe que puede correr y sus pies funcionan ahora como se supone que deben hacerlo", dijo.
Ahora Anthony puede hacer carreras en más de un sentido.
Reciba más información sobre SoonerCare
La campaña de OHCA titulada "Cuétenos su Historia" fue inspirada por una llamada telefónica de agradecimiento de una madre a un empleado del Departamento de Alcance de SoonerCare.
La agencia está solicitando que otros miembros de SoonerCare indiquen cómo fue que SoonerCare afectó sus vidas y las vidas de sus seres queridos.
Los residentes de Oklahoma pueden aplicar a SoonerCare online en www.mysoonercare.org. Infórmese más sobre SoonerCare y sobre otros programas de salubridad en el website o llamando al Departamento de Ayuda de SoonerCare al 1-800-987-7767.
On average, more than 50 percent of the estimated Oklahoma populations younger than age 18 have been enrolled in SoonerCare.
SoonerCare provides quality health care for 1 in 4 Oklahomans.
SoonerCare provides medical, dental and vision coverage for children who qualify for the program.
More than 570,000 Oklahoma children are currently enrolled in SoonerCare.
A family of four can have an annual income of more than $50,000 and may still qualify for SoonerCare.