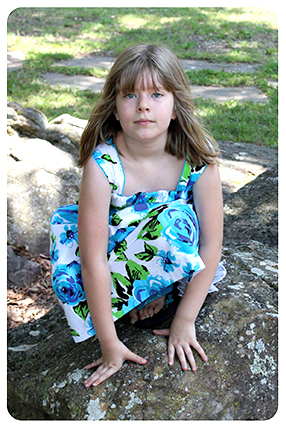 Piper - Wilburton, Oklahoma | Watch The Video  
Seven-year-old Piper Johnson's mother, Barbara, said the call she got from a SoonerCare outreach staff member reminding her to renew her daughter's health insurance came not a moment too soon. A few days later, Piper had to be flown from her Wilberton home to a Tulsa hospital, diagnosed with severe complications from diabetes.
"The call and appointment came at just the right time to save her life," said Barbara Johnson. "She's a happy, healthy child, and we didn't know anything was wrong."
Oklahoma Health Care Authority (OHCA) employee Latrita McFadden spent about 20 minutes on the phone with Barbara recertifying Piper's health insurance and then McFadden reminded her to make a well-child appointment with Piper's doctor.
The night before her well-child appointment, Piper complained of being thirsty and nauseous then started vomiting. When Piper saw her medical home doctor the next day, he immediately told the Johnsons she had "textbook symptoms" of diabetes.
Piper's blood sugar reading was more than 1,000 mg/dL – a random blood sugar level of 200 mg/dL or more plus symptoms like Piper's was a serious indicator for diabetes.
She's now back home with her parents, and her diabetes is under control. Barbara Johnson said treatments have not slowed down her inquisitive, happy child, and she has nothing but praise for the OHCA SoonerCare outreach program.
Learn more about SoonerCare
OHCA's "Tell Us Your Story" campaign was inspired by one mother's thankful call to a SoonerCare outreach employee. The agency is asking other SoonerCare members to tell the agency how SoonerCare changed their lives and the lives of their loved ones.
Oklahomans can apply for SoonerCare online at www.mysoonercare.org. Learn more about SoonerCare and other health care programs on the website or call the SoonerCare Helpline at 800-987-7767.
On average, more than 50 percent of the estimated Oklahoma populations younger than age 18 have been enrolled in SoonerCare.
SoonerCare provides quality health care for 1 in 4 Oklahomans.
SoonerCare provides medical, dental and vision coverage for children who qualify for the program.
More than 570,000 Oklahoma children are currently enrolled in SoonerCare.
A family of four can have an annual income of more than $50,000 and may still qualify for SoonerCare.