Director's Memo 2020-12-21
CareerTech Horizon season finale covers health care
Oklahoma CareerTech Horizon's final podcast of its first season focuses on health care, including a gift from a CareerTech grad that is benefitting health care educators and students across the state.
Other topics include the worldwide nursing shortage and its effect on Oklahoma's health care system and the challenges of training students for health careers in the middle of a pandemic.
Happy Holidays from Oklahoma CareerTech! Our offices will be closed from Dec. 24 through Jan. 1.
Tinker AFB donation will help Mid-Del Tech students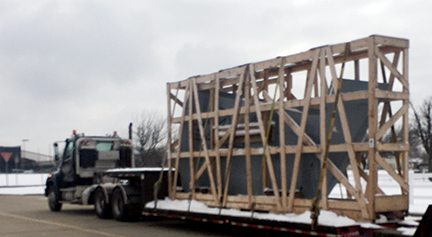 Mid-Del Technology Center recently received a KC-135 outboard wing for its aircraft sheet metal program, thanks to Tinker Air Force Base.
After learning of a need for students to learn to drill and shoot rivets on aircraft curved surfaces, Tinker officials worked with the 309th Aerospace Maintenance and Regeneration Group at Davis-Monthan Air Force Base in Arizona to ship the outboard wing. Tinker received the wing in September, but Mid-Del was unable to get it then because of COVID-19.
Mid-Del worked with a shipping company, which delivered the wing this month. It will be used to help the students understand how to work on curved surfaces.
Northeast Tech gets Google grant
Northeast Technology Center was recently awarded a $55,000 grant by Google for its virtual welding training project.
The donation will help Northeast Tech use virtual tools to improve the hands-on learning process for students in the welding program, said Roger Crutchfield, superintendent.
The Oklahoma Education and Industry Partnerships has set dates for January through March of 2021:
Jan. 26 -- Industry Spotlight on HE&M Saw Inc. of Pryor.
Feb. 23 -- Portable Job Boxes.
March 25 -- Find Your Path in Construction Careers.
OEIP is designed to create a pipeline for partnerships among educators, counselors, administrators, partners, students, industry leaders, government policymakers and members of the economic development community.
Applications open for Sector Partnership Grants
The Governor's Council for Workforce and Economic development and the Oklahoma Office of Workforce Development have announced an application period for Sector Partnership Grants.
Business and industry and their partner organizations can apply for grants to create or expand sector partnerships to meet regional economic needs and align workforce development, education and economic development efforts. In sector partnerships, business leaders from the same industry in a region work with education, workforce and economic development and community organizations to meet workforce and other needs in their industry.
Moore Norman employees named ACTE fellows
Two Moore Norman Technology Center employees have been selected to participate in the Association for Career and Technical Education's 2021 National Leadership Fellowship Program.
Wendy Perry, health career programs director, represents the administration division, and Jennifer Tupper, outreach coordinator, represents the counseling and career development division.
Perry has worked at MNTC for 16 years. She has worked as a teacher, counselor and assistant director before moving to her current position.
Tupper worked for Norman Public Schools for 15 years as a teacher, gifted resource coordinator and instructional coach. She also worked as a literacy coordinator with the University of Oklahoma's K20 Center before joining MNTC in 2017 as the grants and special projects coordinator.
The difference between ordinary and extraordinary is that little extra. -- Jimmy Johnson