Tobacco-Free State Properties
For information on implementing Executive Order 2013-43 regarding e-cigarettes and vapor products on state property, please see the E-cigarettes and State Property page.
The following allows you to view and download several documents from the elements of the implementation guide.  For technical assistance email OnlyAir@health.ok.gov or phone (866) ONLY-AIR (866-665-9247) or (405) 271-3619.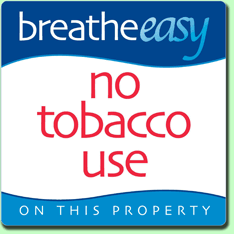 In order to protect the health of all state employees and visitors to state-owned properties, to drive down a significant determinant of health care costs, and to increase productivity, Gov. Fallin issued an Executive Order on February 6th, 2012 which will prohibit the use of tobacco products "on any and all properties owned, leased, or contracted for use by the State of Oklahoma, including but not limited to all buildings, land, and vehicles owned, leased or contracted for use by agencies or instrumentalities of the State of Oklahoma." As stipulated in this Executive Order, implementation must be achieved by August 6, 2012.

This guide has been developed to assist agencies transition to a tobacco-free environment and includes several resources that will assist in planning, policy development, staff and visitor education, and tobacco cessation. You may download the complete implementation guide or reference individual sections and resources below: