Two major work zones need drivers' attention, cooperation to complete an era of improvements
Work impacts I-40 in Del City and I-44 near Will Rogers World Airport in September
Two major interstate projects starting after Labor Day will significantly impact I-40 traffic in the Del City area and I-44 traffic near the Will Rogers World Airport in Oklahoma City. The Oklahoma Department of Transportation is urging motorists to plan ahead for delays.
I-40 bridge replacements at Crutcho Creek, S.E. 15th and Sooner Road
This long-awaited project will replace six I-40 bridges in the Del City area, five of which are structurally deficient. These bridges at Crutcho Creek, S.E. 15th St. and Sooner Rd. have all required significant maintenance in recent years including multiple emergency repairs to keep vehicle and truck traffic moving in this growing corridor between the I-35/Fort Smith Junction and Tinker Air Force Base.
The nearly $80 million bridge replacement project between Sunnylane Rd. (mm 155A) and Hudiburg Dr. (mm 156B) starts Tuesday, Sept. 8. Eastbound I-40 will be narrowed two lanes in this area with intermittent ramp closures at Sunnylane Rd., S.E. 15th St. and Sooner Rd. Motorists also can expect I-40 to be narrowed to one lane at times on nights and weekends, as needed, as well as significant ramp closures during the project.
"Starting this project marks the beginning of the final chapter of the department's 15-plus-year effort to bring state highway bridges from a 49th in the nation ranking into the Top 10 for good bridge conditions," said transportation spokeswoman Terri Angier. "These bridges have been the symbol of desperately needed improvements in the metro area and now are among the 86 remaining structurally deficient bridges on the highway system. Restoring this corridor and lessening the number of disruptions to motorists for ongoing maintenance completes a long-term promise to the residents of eastern Oklahoma County and relieves a bottleneck to traffic heading to eastern Oklahoma."
This project was awarded in June to Manhattan Road and Bridge Co. of Tulsa. Overall completion is set for spring 2023, weather permitting, and the contract includes nearly $2 million worth of incentives for early completion.
I-44 bridge and pavement improvements near Will Rogers World Airport
Motorists also need to prepare for a year's worth of disruption to traffic on the southwest side of Oklahoma City. Beginning Tuesday, crews will be placing signs, cones and barrels along I-44 between I-40 and S.W. 74th St. and on SH-152/Airport Rd. near I-44 in preparation for two related rehabilitation projects.
The first will significantly affect traffic leaving Will Rogers World Airport when the eastbound SH-152/Airport Rd. ramp to eastbound I-44 (runs north) closes for about one month beginning Sept. 21. This is the primary ramp for traffic leaving the airport to go toward I-40 and downtown Oklahoma City via I-44 and also can impact area businesses.
SH-152 Detour Information:
Traffic will be detoured to use the eastbound SH-152 ramp to westbound I-44 (runs south toward Lawton) to S.W. 59th St. (mm 116A), where drivers can exit and turn around to access eastbound I-44. Delays can be expected with this detour, especially during peak travel times. 
Drivers also may take westbound SH-152 to the new John Kilpatrick Turnpike extension to continue north to I-40; this route option requires a toll payment.  
Crews will be replacing expansion joints on the SH-152 ramp and making repairs to the piers and approaches to extend the life of the structure. The more than $610,000 construction contract was awarded to K&R Builders Inc. of Wheatland, Okla., and work on this project is expected to take up to three months to complete.
This is a companion to a $28 million project also beginning in September to improve the pavement and nine bridges on I-44 between I-40 and S.W. 74th St.
"This project will create a smoother driving surface by replacing deteriorated concrete panels and improving several structurally deficient bridges," said Rick Howland, ODOT urban construction/maintenance engineer for the Oklahoma City metro. "During construction, drivers should be alert to a rougher driving surface. The process to smooth the new concrete is one of the final steps in the project."
I-44 will be narrowed to two lanes in each direction at various locations and additional lane and ramp closures, including impacts to nearby city streets, will also be scheduled at times on nights and weekends during the project. The east and westbound S.W. 29th St. bridges over I-44 also will be closed in a later phase of work, with a local detour in place.
Significant delays and congestion can be expected. Extra travel time should be planned, especially to the airport. Drivers should consider an alternate route such as I-35 to the east, or SH-4, or the John Kilpatrick Turnpike (toll road) to the west.
The contract for the I-44 bridge and pavement rehabilitation project was awarded to Sherwood Construction Co. Inc. of Tulsa. Overall completion is expected in late 2021, weather permitting.
Whether driving in Del City or near the airport, motorists are reminded to use all safety precautions in these work zones by slowing down, putting away all distractions and always buckling up.
Drivers can sign up for daily Traffic Advisories, which detail upcoming lane and ramp closures, at www.odot.org and select the "Oklahoma City Metro" option.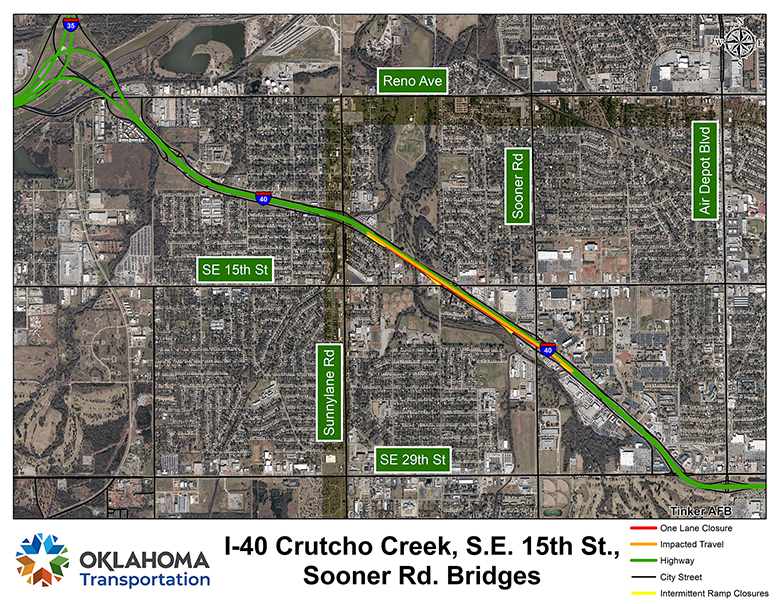 Work is scheduled to start Tuesday, Sept. 8, on eastbound I-40 between Sunnylane Rd. and Hudiburg Dr. in Del City for a bridge reconstruction and widening project that is expected to complete in spring 2023.
Drivers should plan ahead for travel delays near Will Rogers World Airport in southwest Oklahoma City, as work begins in September on two related projects on I-44 and SH-152/Airport Rd.