Ram Jack innovation saves time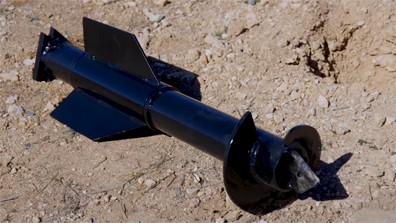 The Sign Dart by Ram Jack is an Oklahoma innovation designed to solve a specific problem for highway departments that are constantly replacing traffic and wayfinding signs.
In fact, the impetus for the technology began with a request from a district highway department superintendent frustrated by the time and cost of replacing highway signs, said Justin Presley, national account manager with Ada-based Ram Jack Foundation Solutions.
Presley shared the history of the Sign Dart development with Lt. Gov. Matt Pinnell on the Innovate That podcast hosted by Pinnell on behalf of the Oklahoma Center for the Advancement of Science and Technology (OCAST).
Ram Jack was doing unrelated work for the Oklahoma Department of Transportation, when the district superintendent approached the company with his problem.
"He was like, 'is there any way that you guys could come up with a product to where we don't have to be out on the side of the roadway, augering a hole, pouring concrete, going back to it seven days later after the concrete cures? I just want to be able to put something in the ground and mount it immediately,'" Presley said.
"Our R&D team and engineering staff went to work, and that's how the Sign Dart was born."
Ram Jack has built its well-known brand by providing foundation support and repair services using its own patented technologies.
The Ram Jack product that became known as the Sign Dart is a 3-1/2-inch steel post that has a lead helix disk driven into the earth by a hydraulic driver. The disk resists compression and tension forces while a series of lateral fins serve to resist lateral forces.
So, if a vehicle slams into a highway sign held by a Sign Dart, it is designed to break away without damaging the base implanted deep in the ground.
"We had to figure out a way to design this Sign Dart to where we could get more resistance laterally to wind loads, and just like in Oklahoma, all the signs that are hit," Presley said. "Oklahoma is very windy; you see signs that are leaning all the time. How can we design a product that, a) will resist all of those loads, b) if it is hit, will not have to be replaced, and c) will actually work."
The now-patented Sign Dart – signdart.com -- with its helical design and steel fins provided the stability and resilience that Ram Jack engineers were seeking.
Ram Jack took its invention to the Texas A&M Transportation Institute proving grounds, where crash tests were done using simulated vehicles that certified its effectiveness for Oklahoma highway officials.
A $300,000 Oklahoma Applied Research Support (OARS) grant from OCAST helped fund development and certification of the Sign Dart. OCAST was created by the state legislature in 1987 to grow and diversify Oklahoma's economy.
The New Product Development Center at Oklahoma State University, an OCAST partner in the what is known as the Oklahoma Innovation Model, also provided grant writing assistance for Ram Jack, Presley said.
Ram Jack is now using some of the OCAST grant money to development a bigger Sign Dart capable of holding heftier signage. The grant also is funding full scale crash tests that will enable it gain Federal Highway Administration certification.
That means the Sign Dart would not have to be approved on a state-by-state basis. Ram Jack is currently rolling the Sign Dart out across Oklahoma and introducing it to highway departments in neighboring states.
"The approval process goes out the window once we have the Federal Highway Administration level," Presley said. "We would not be able to do all of this without OCAST."
Ram Jack has done financial projections that show the Sign Dart can save highway departments up to half of the cost to install traditional traffic signs concrete bases where work is done in two separate trips.
"With Sign Dart, it's one trip, and, once our product is installed in the ground, the signage can be installed immediately," Presley said.
For Ram Jack, the main obstacle to widespread acceptance of the Sign Dart may be status quo, Presley said. Some organizations are reluctant to switch from a method they have always used, even if it is more time consuming and costly.
As both podcast host and state official, Pinnell saw the potential of the Sign Dart before the podcast ended.
"I'm Secretary of Tourism in my role as Lt. Governor," Pinnell said. "One of my jobs is to work with ODOT constantly on signs, and it's a never-ending battle of constant upkeep and fixing them.
"To have a product like this where a lot of that isn't needed after installation, that's a game-changer," he said.