Preston Eastin fabricates custom positioning systems to exacting specifications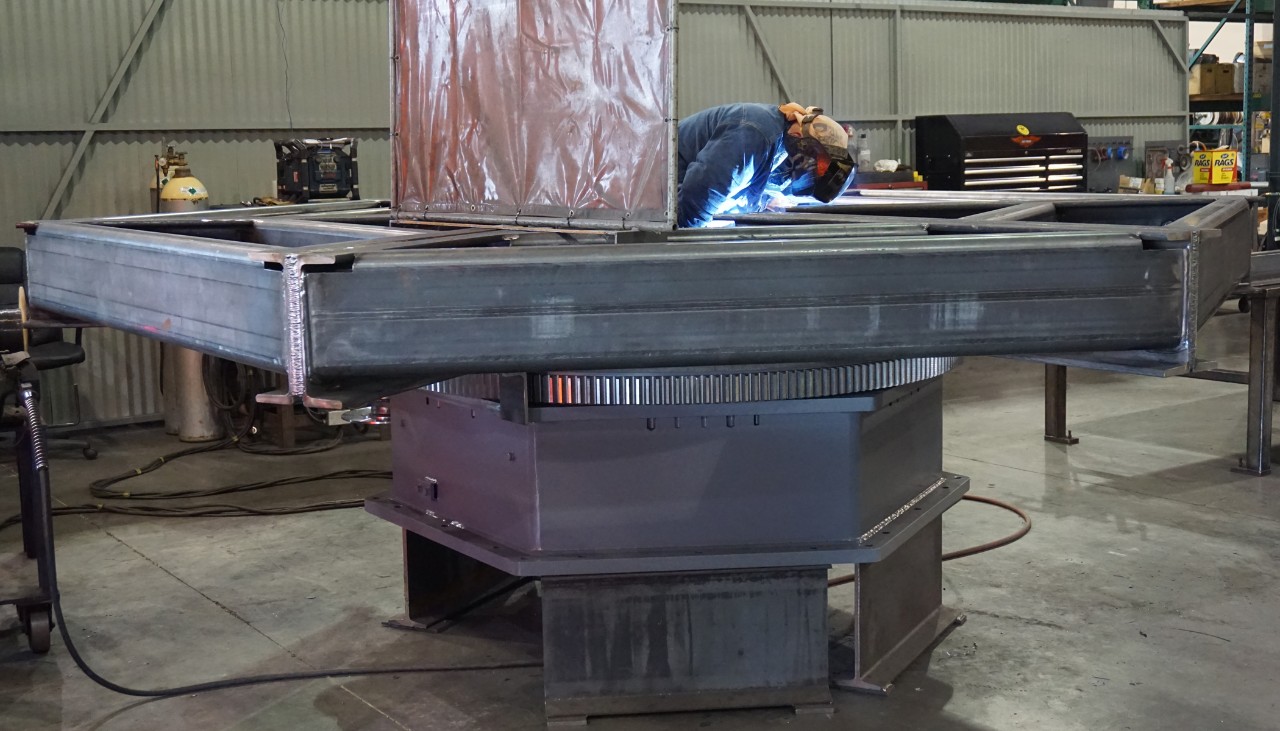 Welding sparks fly on the manufacturing floor of Tulsa's Preston Eastin as Robert Nock explains how the giant turntable being fabricated behind him will be used by the nuclear power industry.
As Preston Eastin's CEO, Nock oversees a skilled labor force of 36 people who design and manufacture custom robotic positioning systems and equipment. The company serves a wide array of industries, from aerospace and aviation to welding, automotive and transportation, ship building, thermal spray and heavy equipment manufacturing.
On this late-summer afternoon, Nock is showcasing the company's capabilities to meet industry specifications for equipment that can position robotic spraying arms with tolerances as tight as 0.003-0.005 of an inch. Or a turntable that can position equipment weighing up to 400,000 pounds.
"Basically, we help industrial clients manufacture things more efficiently through positioning their parts in the right position to assemble, weld or paint in a more efficient manner," Nock told a video crew from the Oklahoma Center for the Advancement of Science and Technology (OCAST).
"We're a completely custom type solution," Nock said. "Boeing came to us and asked us to design a project for them where we actually floated two robots down the length of a paint room that paints two wings at the same time for the Boeing 777 with robots. It's a 400-foot span of robots on tracks. We designed that track from the ground up."
Preston Eastin was founded in 1972 primarily to support welding needs of the oil and gas industry, specifically manufacturers of bulky heat exchangers. It focused on the energy industry for decades and recently has diversified into markets far beyond oil and gas.
Preston Eastin's expansion into other industries was aided by a grant it received through OCAST as part of a federal Economic Development Administration (EDA) program designed to help Oklahoma manufacturers diversify their business.
The $1 million EDA grant was awarded to OCAST in 2016 and matched with $530,000 in state funds to support what has been called the Diversify Oklahoma initiative. OCAST worked with its industry partner, the Oklahoma Manufacturing Alliance, to identify companies that could benefit from diversifying their business away from the cyclical nature of the energy industry.
"The EDA grant has helped us diversify our business tremendously," Nock said. "The grant allowed us to get out into very different industries, such as this large turntable for the nuclear power industry. A turntable of this magnitude is several hundred thousand dollars, and this is the fifth turntable that we've built for that customer."
EDA grant funding provided to participating Oklahoma companies like Preston Eastin averages $75,000 each, said Dan Luton, programs director at OCAST.
The Preston Eastin website also was redesigned through the EDA grant, which has allowed it to reach more potential customers because of better search engine optimization, Nock said. The company has boosted its employment by 50 percent in the wake of the grant, including five engineers on the staff who design the precision equipment.
"I've worked in numerous states, in Washington and California, and I've been blessed being here in Oklahoma since 2008," Nock said. "This state is far superior as far as helping businesses grow and diversify than other states I've been part of."
Sparks continued to fly as Nock walked off the production floor, where welders remained focused on fabricating the giant turntable for a nuclear power industry customer.
"The amount of growth that Preston Eastin can see in the next 5 to 10 years is amazing," he said. "All we have to do is ship quality products on time and keep our customers and keep our employees happy."