Linked Manufacturing Solutions brings new life to abandoned armory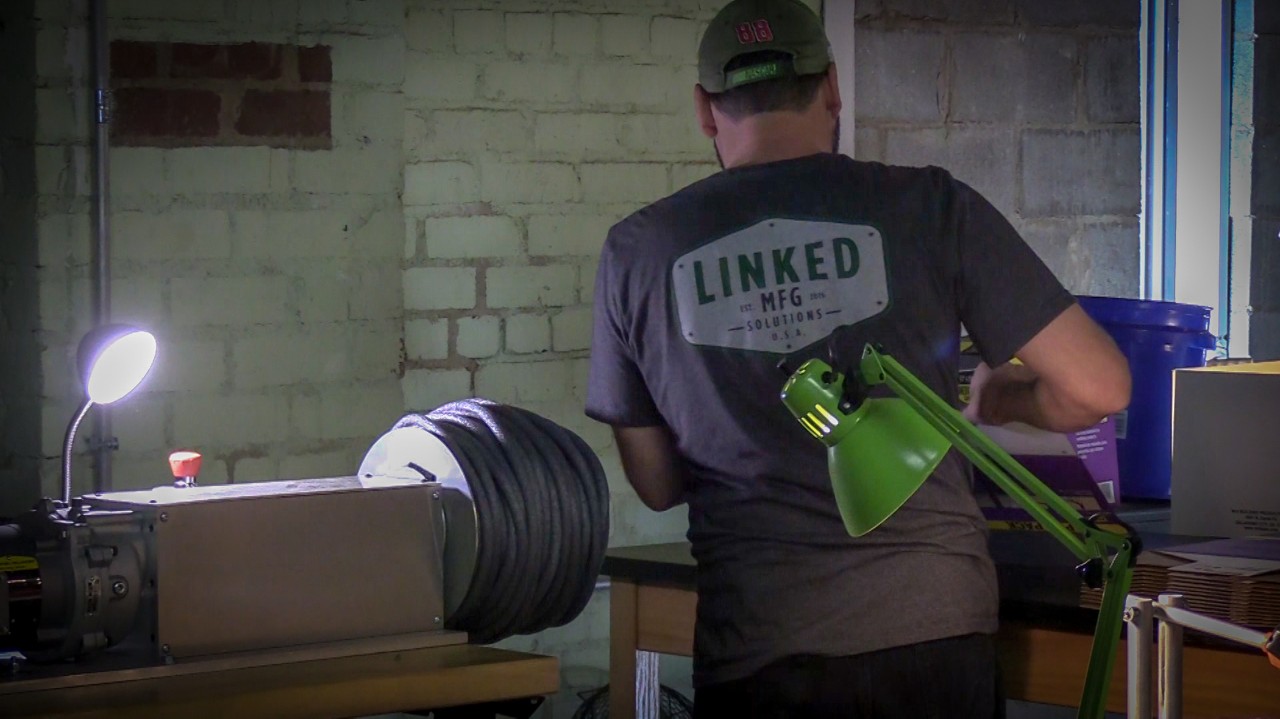 An abandoned military armory built here in 1936 has been brought back to life more than 80 years later as a workspace for an Oklahoma manufacturing industry start-up.
Linked Manufacturing Solutions brought new life to the armory when it established operations here about 2½ years ago.
The 18,000 square-foot armory was built by the Works Progress Administration (WPA), which was part of President Franklin Roosevelt's New Deal program to create jobs during the depths of the Great Depression.
"The WPA was used to put people to work," said Linked Manufacturing founder Marty Dixon. "Now, we've taken this building and put people back to work, not only for Minco, but for El Reno, Union City, Tuttle, Pocasset and Chickasha."
Today, Linked Manufacturing employs 17 people from Minco and surrounding communities, who use specialized machinery to package products for clients and deliver them ready for retail.
Dixon, 58, founded Linked Manufacturing Solutions – www.linkedmfg.com – in 2016 after working almost 40 years in the technology and manufacturing industries.
While working as purchasing director for a former employer, Dixon identified an opportunity to bring packaging of some of its products to Oklahoma from Mexico.
"There was product moving from Canada to Mexico and back to Oklahoma," Dixon said. "I took that opportunity to shorten the supply chain and brought it here to package from Mexico."
When Linked Manufacturing began operations in 2016, employees used improvised tools to roll long strips of construction "backer rod" into coils that could then be packaged in lengths of 20 feet or in 150- and 250-foot increments.
The operation was subsequently automated with machines designed and built specifically for it with assistance from the Oklahoma Manufacturing Alliance (OMA). OMA engineer Ben Alexander designed tools affectionately known as the Whirligig and the Beast.
Alexander was brought in through OMA Extension Agent Mike Raymond, one of 15 field agents working in communities across the state. At the time, Raymond was sponsored by the Canadian Valley Technology Center.
"Ben worked with Marty to design the Whirligig and the Beast," Raymond said. "I assisted with getting quotes from local machine shops. We worked together as a team to assemble the machinery and put them into service. They work pretty well."
Linked Manufacturing has expanded its base of clients to include other OKC-area companies that need specialized services, such as re-sorting, re-labeling, and re-packaging materials that arrive not exactly as ordered.
Dixon has purchased property locally on which he plans to build a larger facility to accommodate expanded Linked Manufacturing Solutions operations.
"We are targeting entrepreneurs who are growing and don't have the brick and mortar to support their growth," Dixon said. "As a start-up ourselves, it's a perfect fit. We've come a long way in 2½ years."