Students get creative to help bring litter awareness to Oklahoma
---
FOR IMMEDIATE RELEASE
April 14, 2017
Press Release # 17-015
Nearly every county in Oklahoma participated in the 2017 Trash Poster Contest bringing litter awareness to youth in the state.
Thirteen students' posters from across the state were selected as winners in this year's contest. Twelve of the posters will be featured in the 2018 Trash Poster Calendar and one additional poster was selected as the 2017 Promotional Poster of the Year.
"Each year we are amazed how creative the students can be and greatly appreciate teachers bringing this contest into their curriculum," Melody Johnson, Beautification coordinator for the Oklahoma Department of Transportation, said. "This year we had over 8,000 students participate."
The department and its partners honored the 13 students Wednesday at the ODOT headquarters in Oklahoma City awarding them with a T-shirt displaying their design and a cash prize, funded from monetary donations. The student artists' parents and teachers from around the state enjoyed lunch catered by Head Country Bar-B-Q. Following the luncheon, the students were introduced at the state Capitol to the House of Representatives.
Mike Patterson, ODOT Executive Director, welcomed guests to the gathering and talked about the importance in helping keep Oklahoma litter free. The department spends more than $4 million annually to combat litter. That total does not include the hundreds of volunteer hours put toward the cause across the state.
The winning posters will be on display in the ODOT lobby through May, along with additional winning posters from the county level judging.
The 2018 calendar will be available for free and will be distributed to state agencies, businesses and schools statewide later this year. The Promotional Poster of the Year will be printed in large format for the public to use in displays, newsletters and for promotional use to help spread the word that litter is harmful to our state.
Contest sponsors include ODOT, OGE Energy Corp., Oklahoma Department of Environmental Quality, Oklahoma State Department of Education, Keep Oklahoma Beautiful, Oklahoma Tourism and Recreation Department-Oklahoma State Parks, Oklahoma Turnpike Authority, Oklahoma Arts Council, Oklahoma City Beautiful, Ardmore Beautification Council, Head Country Bar-B-Q, Oklahoma Highway Safety Office, Oklahoma Highway Patrol, Oklahoma Employee Credit Union, Oklahoma Environmental Management Authority, Ergon Asphalt Emulsions Inc., Sierra Club- Oklahoma Chapter, Oklahoma Rural Water Association and Solid Waste Institute of Northeast Oklahoma.
Next year's contest begins Dec.1 and has a January 31, 2018, deadline. For more information about the contest, contact the ODOT Beautification Office at (405) 521-2557 or email beautification@ODOT.org.
The winning posters can be viewed online at:
http://www.okladot.state.ok.us/beauty/poster/winners.htm
The state winners are:
Kindergarten - 2nd Grade:
First Place: Carlee Castleman , 1st grade, McCurtain County
Second Place: SadieLynn Bundy , 2nd grade, McCurtain County
Third Place: Mercedes Cargill , 2nd grade, Payne County
3rd - 5th Grade:
 First Place: Austin Buchanan , 5th grade, Oklahoma County
Second Place: Molly Vega , 3rd grade, Cherokee County
Third Place: Clair Stanberry , 3rd grade, Pontotoc County
6th - 8th Grade:
First Place: Annie Xie , 8th grade, Tulsa County
Second Place: Emmalee Thorne , 6th grade, Cherokee County
Third Place: Cristal Hernandez , 8th grade, Texas County
9th - 12th Grade:
 First Place: Makenzie Adams , 10th grade, Rogers County
Second Place: Dillon Stienbarger , 12th grade, Creek County
 Third Place: Olivia Anderson , 11th grade, Carter County
2017 "PROMOTIONAL POSTER OF THE YEAR"
Tanner Blanchard , 11th grade, Marshall County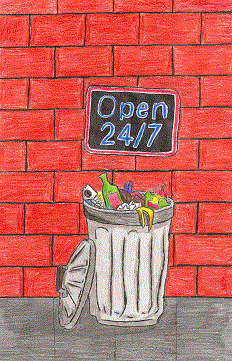 2017 "Promotional Poster of the Year" created by Tanner Blanchard, 11th grade, Marshall County
(Editors and News Directors: For more information, call the ODOT Media and Public Relations Division at 405-521-6000.)
---